Forex Managed Accounts &
Information - What You Need  Know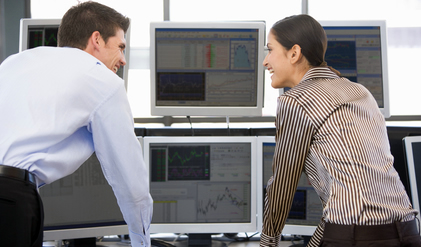 Forex managed accounts are an excellent solution for traders who have the risk capital but do not have the time to follow the markets 24/7. The foreign exchange currency market is open 24 hours a day five days a week.
To be successful in such an environment you will need to follow the market movements throughout. For most people this is impossible. There are other things to be done besides following the currency market and well, we'd all like to sleep sometime during those 5 days.
Problem is during the time that you are away, you could be missing out on some really good opportunities. At times like these, managed accounts can be a better alternative.

So what exactly are forex managed accounts?  A managed account basically means that your forex account is being professionally managed.

How it Works
Once you've decided to let your forex account be professionally managed, you will first have to open a personal Managed forex account with a Forex Broker. This account is under your name and should always be password protected. You can access this account from anywhere in the world. The broker gets limited powers to trade your account but they are restricted from withdrawing funds from it.

In a managed account, your funds are not co-mingled with funds of other investors like they are in hedge funds and mutual funds. When the broker takes a position on your behalf, it belongs to your portfolio alone. Also, there is no lock up period. All of this means that you can redeem all or part of your funds within one day if you wanted to.

Should You Opt For A Managed Account?
There are two scenarios in which it is better to open a forex managed account. One is if you want to trade the market and have the money to do so but you do not have the time to watch the markets 24 hours a day.
The second scenario is if you are inexperienced in the field of foreign currency trading While you are taking time to conquer the learning curve, instead of zero profit, a managed account will at least help you make some amount of money.

In fact, you can opt for a forex account that is managed if the above two scenarios do not apply to you. All you need to do is look for a disciplined broker who will not trade recklessly with your money. I know many people who prefer to use managed accounts rather than try to trade the market on their own which is understandable if you are risk averse. 

Get in touch with me if you would like to know some more about the features and advantages of managed forex accounts, and I hope that this information has been helpful to you.
Understanding Foreign Currency Trading: The Basics

Return to Forex Trading Homepage from Forex Managed Accounts